About Nancy Meadows Taylor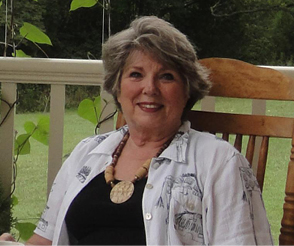 Nancy Taylor's interest in art began very early as a pastime for a farm girl who found drawing and painting more satisfying than raising livestock for 4-H shows. Art became a way to be involved with the natural beauty of the rural area where she lived. It was an opportunity to study nature with all of its details and observe the effects of light in the landscape which affects the paintings she does today.
A BS degree at the University of North Carolina at Greensboro with a major in Interior Design developed her design skills. The painting skills were learned from classes and workshops along the way with lots and lots of just painting. She began drawing as a graphic artist with the Community Planning Department of the State of North Carolina and rendering architectural subjects for a home designer. Leaving the workplace to raise three children with her husband, Nancy began to paint seriously.
Soon Nancy was exhibiting in area galleries developing a following for her bold, dramatic paintings in watercolor which brought her regional and national recognition highlighted by signature memberships in the American Watercolor Society, the National Watercolor Society, the Rocky Mountain National Watermedia Society and the Watercolor Society of North Carolina. She is a juried member of Oil Painters of America and American Women Artists.
Nancy now paints with watercolor and oil focusing on floral subjects and water patterns.  Travels in the U.S. and abroad have added images to her portfolio of places that attract her.
At the beginning of her career as a painter, Nancy was influenced by contemporary painters of realism such as Sondra Freckelton, Carolyn Brady and Joseph Raphael with their mastery of color, intensity and scale which at the time was unusual in watercolor. As she began painting in oil, she began to study the paintings of Sorolla and Zorn especially the use of light and energy and the interaction of subjects with their environment.
Nancy recently moved her studio from Artspace in Raleigh to Wild Stream Studio at her home where she does most of her work. Her paintings can be seen there by appointment and at galleries that represent her or they may be viewed on her online gallery.
Wild Stream Studio – 919-740-2605